Make an Appointment Today
Our team will be happy to assist you!
Make an Appointment Today
Our team will be happy to assist you!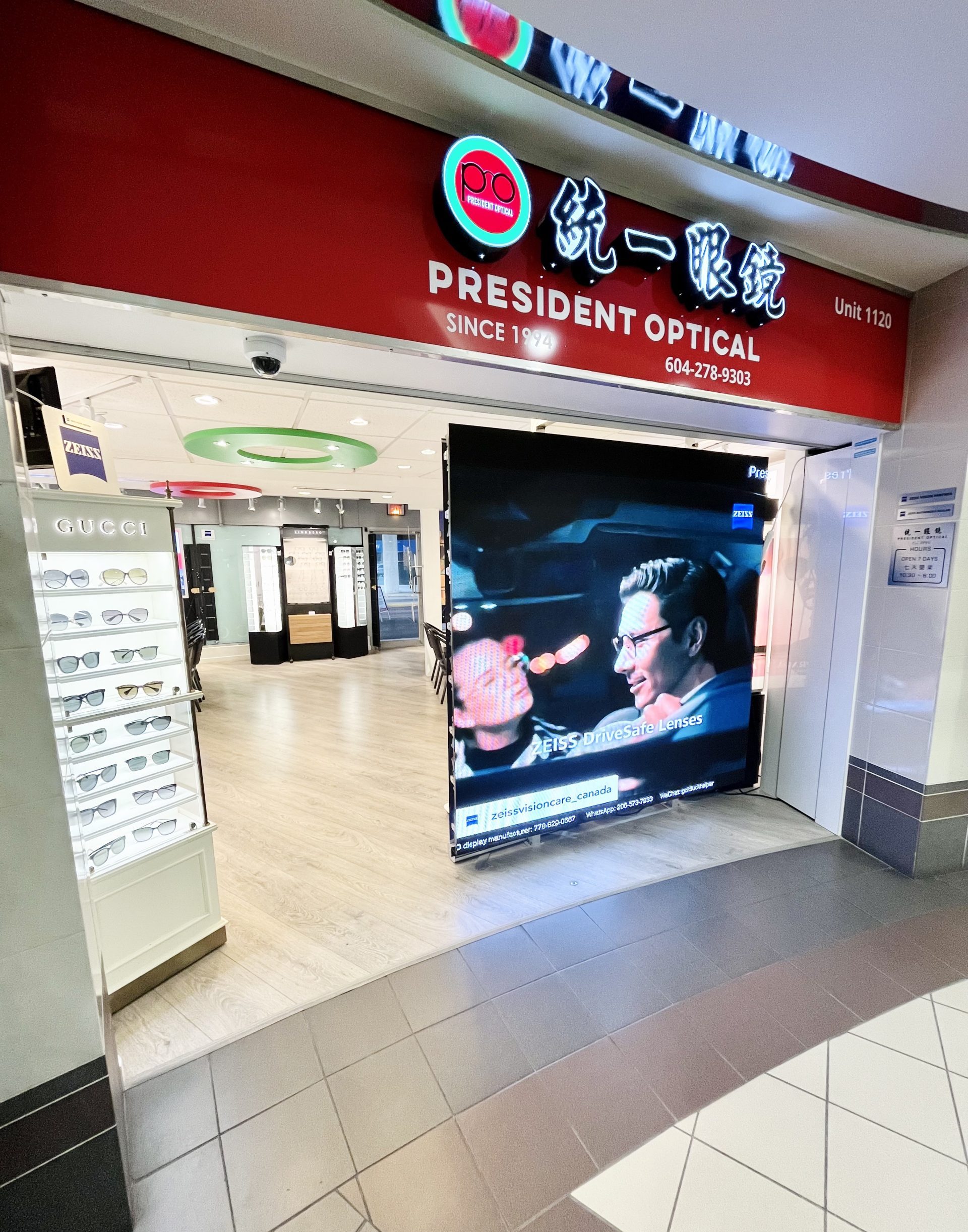 Since 1994, President Plaza has been our home to providing professional and reliable services to multi-generational families visiting from across the lower mainland and North America.
A relocation to unit 1120 in 2014 brought an evolution for our company to upgrade our offerings and the eyewear shopping experience in order to better cater to our advanced digital world and to your ever-changing vision demands.
Where relationships are valued, quality is prioritized, and service is personalized, we are proud to be our community's one stop vision shop. 
Yaohan -> President Optical
Plaza Entrance (interior) -> President Optical
Plaza Entrance (exterior) -> President Optical

Over 28 Years of Experience
We offer the most suitable solutions for your visual needs today.

Service Purpose
We adhere to the principle of "customer first" and provide value-added and quality services to our customers.

Vision Coverage
We accept ministry patient coverages and offer direct billing to most insurance companies.

After Sales Service
The pursuit of customer satisfaction is our goal, and we are here to solve your optical needs and problems.
WHAT DO PEOPLE SAY ABOUT US
Over 100+ Positive Google Reviews available, click me to read more 
I have been coming to this optical business now for about 2 years. The ladies running the business are so genuine and want the very best you and your vision. I recommend President Optical Inc to everyone. High quality products, competitive prices, and best service.
Wow, great experience here! Family run optical store with fantastic service, direct billing to insurance companies and in house optical exams. The service is personable and there's no other place I would go for my optical needs. Brought my mother and grandmother in and was very impressed by the level of service and selection. The twins have a great eye for style and know what glasses will suit you the best.
I have been getting my contact lenses and prescription glasses here for years. In fact, my family members and many friends all frequent President Optical. The service the girls provide is truly phenomenal. Friendly, knowledgeable, and efficient, everything you need for a great, stress-free experience!
Those girls are the best! Now I can see my PC and knitting at the same time with glasses on! I used to take glasses off to do knitting and put it back on for computer which was pain in the neck!! I can't thank them enough:) Everything I experienced at this store was awesome! And good product and good prices, I will definitely come back and I strongly recommend you to go for glasses!
Such a sweet family!! They were so accommodating! Deborah was so so so sweet! She goes out of your way to make you feel comfortable. At the store we met her, her little sister Pam, and their Mom! So happy with my experience. Thank you for all the help!! So happy to find a pair of glasses that love.
Contact President Optical Today
Feel free to contact us with any questions you may have. Our team will reply to you as soon as possible.